CITY CLOU in the Heart of Midtown Cebu – TOWER A
CITY CLOU in the Heart of Midtown Cebu
City Clou is located in D. Jakosalem St., Brgy. Zapatera, Cebu City.
Welcome to Cebu's first-ever Community Business District – a mixed-use development offering residential, office, leisure, and retail in one vibrant community at the center of Cebu City.
City Clou is located at D. Jakosalem St., Brgy. Zapatera, the Heart of midtown Cebu, and along famous Mango Avenue!
The project's proximity to these key meeting points means high foot traffic, and high visibility for the area. Central Business Districts and major transportation hubs and shopping malls are all within 10-15 minutes driving distance.
COMMUNITY BUSINESS DISTRICT
ACCESSIBILITY AND LANDMARKS:
YOUR HOME AT THE CENTER OF CEBU CITY
City Clou's prime location allows premier access to the Cebu Business Park, top-notch medical facilities, educational institutions, shopping malls, nightlife hotspots, and other essential establishments.
1.3 km St. Theresa's College
1.7 km University of San Carlos
1.8 km Chong Hua Hospital
2 km Adventist Hospital Cebu
2.7 km University of the Philippines
2.8 km Ayala Center Cebu
3.7 km SM City Cebu
4.3 km Cebu-Cordova Link Expressway
4.7 km Cebu IT Park
13.6 km Mactan-Cebu Int'l Airport
AMENITIES AND FACILITIES
Pool Complex
Gym
Children's Playroom
Game Room
Yoga Room/Dance Studio
Meditation Garden
Karaoke Rooms
Function Hall
Study Room
UNIT TYPES:
STUDIO  UNIT – 22.82 to 24.86 sq.m.
TWO BEDROOMS – 42 sq.m. to 43.19 sq.m.
Number of Floors: 30 Floors
Units Per Floor: 23 units (Typical Floor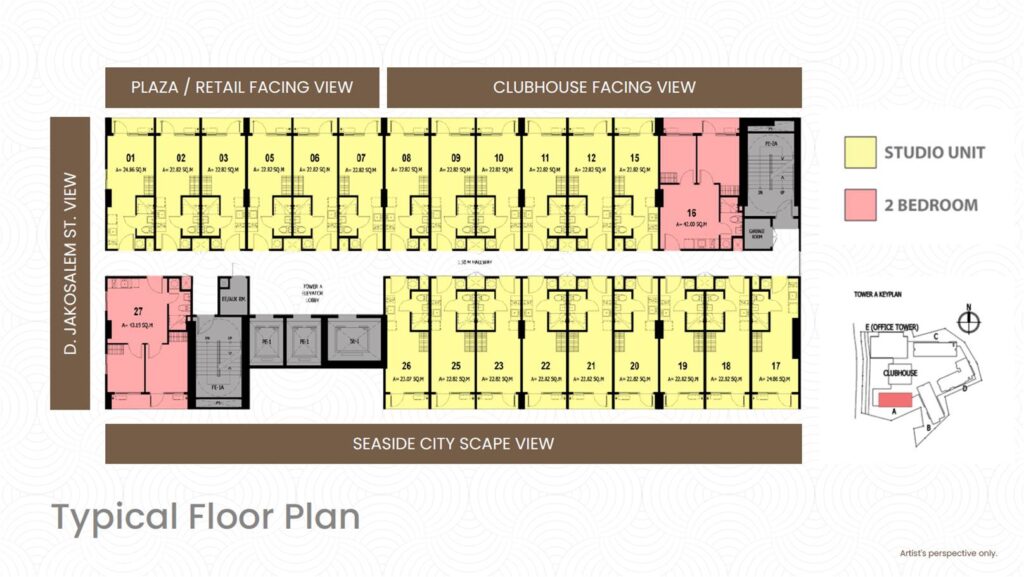 UNIT DELIVERY STANDARD
All units in City Clou are afforded with balconies that open to inspiring views of Cebu. Guests may enjoy a sweeping view of Ayala Center Cebu, an inspiring view of Cebu City proper, or a scenic view of Cebu Port Area.
BED AND LIVING AREA
Wall : Painted Finish
Floor: Tiles
Ceiling: Open Ceiling concrerte slab in paint finish
CLOSET: Laminated Wood Finish
BALCONY
Floor : Tiles
Rails: Metal Railing
Walls: Painted Finish
KITCHEN AND DINING AREA
Wall: Painted Finish
Floor Finish: Tiles
Under Cabinet: Laminated Wood Finish
Over Cabinet: Laminated wood finish
Countertop: Solid Surface
Ceiling: Gypsum board in paint finish
Fixtures: Sink and faucet
Rangehood: Included
Cooktop: Included
TOILET AND BATH
Water Closet: Standard water closet
Lavatory with Faucet: Semi-pedestal with cabinet
Shower Set: Included
Handspray: Standard Handspray
Walls:
Dry Area – Painted Finish
Wet Area: Tiles (1.8m high)
Flooring: Tiles
Ceiling: Aluminum panel ceiling
Floor Drain: Included
Exhaust: Included
Tissue Holder: Included
Tower Bar: Included
ASPIRE FOR A BETTER HOME WITH TOWER FREE UNIT UPGRADES
UNIT DETAILS AND COMPUTATION:
UNIT DETAILS:
TYPE: STUDIO TYPE
Floor Area: 22.82 sq.m.
Living
Dining
Bedroom
Balcony
Toilet & Bath
Kitchen
Base and Overhead Cabinets
SAMPLE COMPUTATION:
19th Floor, Unit 21
Floor Area:22.82 sq.m.
Balcony: 2.66
LIST PRICE: Php 4,180,000.00
TRANSFER CHARGES: Php 229,900.00
VAT (12%): Php 501,600.00
TOTAL PURCHASE PRICE: Php 4,681,600.00 
RESERVATION FEE: Php 25,000.00
♠ 10% DOWNPAYMENT net of Reservation Fee Payable in 33 months: Php 443,160.00
♠ 10% SPOT DOWNPAYMENT on the 39th month:
♠ 80% BALANCE THROUGH BANK FINANCING: Php 3,745,280.00
Transfer charges must be paid on or before Bank Loan Take-out: Php 229,900.00
---
TYPE: 2-BEDROOM
Floor Area: 42 – 43.19 sq.m.
Living
Dining
Bedroom 1
Bedroom 2
Balcony
Toilet & Bath
Kitchen
Base and Overhead Cabinets
SAMPLE COMPUTATION:
19th Floor, Unit 16
Floor Area:42 sq.m.
Balcony: 4.89
LIST PRICE: Php 7,260,000.00
TRANSFER CHARGES: Php 399,300.00
VAT (12%): Php 871,200.00
TOTAL PURCHASE PRICE: Php 8,131,200.00
RESERVATION FEE: Php 50,000.00
♠ 10% DOWNPAYMENT net of Reservation Fee Payable in 33 months: Php 763,120.00
♠ 10% SPOT DOWNPAYMENT on the 34th month:
♠ 80% BALANCE THROUGH BANK FINANCING: Php 6,504,960.00
Transfer charges must be paid on or before Bank Loan Take-out: Php 399,300.00